New Years resolutions are not usually for me. When I was younger I would try to set silly goals (lose x number of pounds before spring break!) without any sort of plan (watch the fat magically melt away!) do well for a few days and then forget about it. So for the last 8 or so years I've kissed New Year Resolutions goodbye.
But in truth, there are a lot of resolutions that I should aim to make this year. So while I don't think of these as resolutions, here are a few things that would help to improve my mind, body and soul.
1. Drink More Water: Am I the only person who hates to drink pure water? Boring, right? I know that it is the best possible thing for me, but I rarely drink more than 1 glass a day. And just when I thought that nobody would notice my sneaky health habit, my doctor left me a lengthy voicemail about how I need to drink more water after I went in for some routine lab work. Oops?
2. Reduce gossip: So fun, but so dangerous. I don't like to talk bad about other people, but I find myself gossiping with friends. Let's be honest – we all do it, right? Maybe the world will be a better place if we all just cut down on it a little bit. Deal?
3. Workout more than 1x every 3 months: Sad but true.
4. Create a monthly budget and actually stick to it: And opening my monthly budget template for 5 seconds does not count. Some weeks I do so well and other weeks …. well, my bank account tells a very sad story.
5. Be: Be in the moment, grateful, happy, friendly, loving, and  adventurous.Being adventurous and willing to operate outside of my comfort zone has always been a bit difficult for me, but this year I'll be pushing myself. 

So those are the resolutions that I should make this year but probably won't stick to. Instead of creating a list of resolutions, Rima had a the great idea to make a yearly bucket list. I like this idea a lot better than resolutions!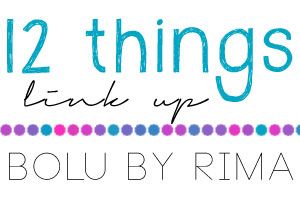 Each time I complete a goal I'll take a picture or write a post about it to document all my accomplishments. Rima also suggests to do a 12 Things revisiting post at the end of each month to track my progress. No promises, but I'll do my best! Here are my 12 things for 2013:
1. Take a photography class: I think that most of you know that I love taking pictures (hello instagram) but I haven't taken a proper class in almost 10 years. Safe to say that a refresher course is necessary. I thought about taking a class last year but was too lazy to actually do it. Sometime this year I'm going to make myself sit down, find a class and learn some new tricks!
2. Try 25 new vegetarian or vegan recipes: That is about 2 new recipes a month (which I usually do anyway) so I think that is completely doable. Plus you get to see all the messes that I make in my kitchen!
3. Visit 3 new countries: Okay, I'll see 2 new countries next week, but sometime this year I'd like to visit another place.
4. Enjoy 10 new hikes: Each semester I tell myself that I am going to try out new hikes in my area and I never do (what can I say, I enjoy my regular stomping grounds). Since my time in southern California may be close to expiring, this year is the perfect year to explore the surrounding wood, mountains and and desert trails. Anybody else want to come along with me?
5. Make sushi at home: This is closely tied to the 4th resolution that I should be making
6. Try a new food: This will be a difficult one. I love trying new foods all the time but
7. 2 weeks vegan: Although I eat fish, I've been a non-meat eater for almost 11 months. Every now and then I think that I want to try the vegan route but have yet to take the plunge.
8. 1 month of only eating at home: Everything on this list is related to food – is that a bad thing? I have a serious eating-out habit that needs to end immediately. I know that it won't end but if I can handle 1 month of only eating at home (or out for sushi when my mom is in town…) I'll save a little money and possibly lose a little of my vacation weight.
9. Finish my PhD portfolio: This is the largest beast of a monster in my life right now. I may or may not finish by December but that is my goal. Get it done, Nicole!
10. Take 1 picture every day: I try to do this every year but always forget by January 3rd. Not this year, friends! Follow along on my instagram, duh!
11. Simplify my life: I own too much stuff, plain and simple. And I don't even use/wear the majority of the stuff I own. This means that I need to organize a big yard sale and/or donate a bunch of things to places like the Goodwill. Goodbye clothes I never wear, mugs that take up too much space and magazines that I won't read.
12. Move out of California: This is a big one, ladies and gentlemen. I've been talking about it for a while but I think that I may be ready to make the big move. I'll keep you updated, I promise.
So there they are – 12 things that I'm going to try to accomplish this year. What are the resolutions that you should be making new year? And what is on your bucket list?
**60% off ad space today only with promocode hello2013!!**
Linked with 12 Things & Tell Me About It Tuesday.